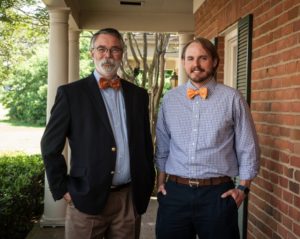 Thanksgiving is a time to celebrate and express your deep gratitude to those who matter most to you. An attitude of thankfulness will always keep you humble and in a positive mood, even in unfortunate circumstances. This year Dr. WIlliams and Dr. Hamman are thankful for how both their practice and their families have been blessed. They can't wait to take a few days off to spend time with the ones they love and eat some delicious food!
Williams & Hamman Orthodontics was fortunate enough to have some positive change in our office this year: the office added an intraoral scanner this year so patients can avoid impressions, Brittany was brought back on staff after she took some time off to spend time with her baby, and Dr. Williams was named an AAO Trustee which means he will now have the privilege of serving the orthodontic specialty on a national level over the next several years. A highlight of the year was the whole team travelling to New Orleans for the Southern Association of Orthodontists meeting in October. We attended CE courses to learn new and innovative ways to best serve our patients.
Dr. Hamman's tip to staying calm and collected during the holiday season is buying Christmas gifts throughout the entire year whenever you see something on sale. It makes December much less stressful from a budget and time management standpoint.
Dr. Hamman and Dr. Williams want to continue to provide the best care possible to our patients and to do it in a personal and caring way. We hope everyone is enjoying the season surrounded by friends and loved ones!